from
http://awkwardfamilyphotos.com/
I want my family portrait to be exactly like this one.
I am also quite excited about the imminent return of the BBC series "The
Supersizers
" in which Sue Perkins and my long-standing crush, The Saturday Times' food critic Giles
Coren
, attempt to consume their way through heaps of offal, suet and
tv
dinners, all the while clad in period costume, in the name of research into the culinary habits of various periods in history. It may sound like a bit of an indulgent, pompous exercise- and in many ways it is -but it is honestly fascinating and I will never tire of
Coren's
attempts to continually look dapper and
debonair
in a host of vintage dress whilst chewing a slow-broiled uterus. Nor will I tire of Sue's continuing eye rolling, painful experiences with
corsetry
and
gung
-ho attitude to getting completely hammered in the middle of the day. Together, they are probably the best example of the perfect married couple... which may be explained by the fact that they are not married, one of them is gay and they both have their own respective partners.
The first episode is the Eighties, which sounds good enough as it is, with the promise of yuppie-extravagance or miners strike frugality, but then I saw this: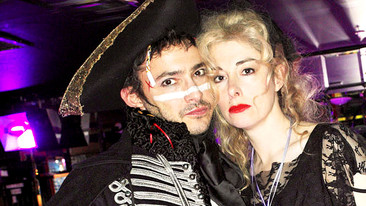 If there is one thing I love more than Giles
Coren
, it is watching Giles
Coren
dressed up as Adam Ant cloy himself on Pot Noodles, bad sushi and
Krug
. Anyway, to see
Coren
gorge himself stupid and then look completely
outraged
at the end of the week when he has put on a stone and has the cholesterol levels of a deep fried Glaswegian, and Sue's continual attempts to reign him in (until she gets distracted by mead, champagne or sherry), tune into BBC 2 on Monday 15
th
June at 9pm.
Also, if you haven't done so already, have a gander at the quite vehement
correspondence
between
Coren
, and well...
everyone in the
journalistic world